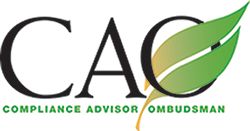 The Policy responds to recommendations from an independent external review and reflects feedback from extensive public consultations with complainant communities, civil society, IFC/MIGA clients, development finance institutions and other stakeholders.

The Policy is now available in English and additional languages forthcoming.
Public Consultation on Draft CAO Policy
(April 5 – May 19, 2021)
Draft CAO Policy (April 2021 Version) for Public Consultation: 
English, Arabic, Chinese, Spanish, French, Japanese, Portuguese, Russian

The public consultation period on the draft CAO Policy ended on May 19, 2021. The consultation process comprised of one informational session and nine regional consultation meetings. Stakeholders were also able to submit written feedback through the online feedback form or by e-mail.
The feedback gathered during the consultation process was considered by the Working Group as the Policy was finalized before its presentation to the Boards in June 2021 for their consideration and approval.
Summary Report of Public Consultation

Consultation Events
Virtual Consultation Meetings: The following regional consultation meetings were held:



Latin America

April 26, 2021: 9am (COT): Bogota (Spanish)
April 30, 2021: 9am (BRT): Brasilia (Portuguese)

Sub-Saharan Africa

April 27, 2021: 12pm (GMT): Dakar (French)
April 29, 2021: 3pm (EAT): Nairobi (English)

Middle East and North Africa
East Asia and Pacific

May 3, 2021: 10am (ICT): Bangkok (English)

South Asia

May 4, 2021: 9am (IST): New Delhi (English)

Europe and Central Asia

May 7, 2021: 3pm (EEST): Kiev (English)

Global

May 10, 2021: 9am (EDT): Washington, DC (English)

On April 12, 2021: An informational session was held to brief stakeholders on:



The draft Policy: background, context and process for the development of the draft Policy; and key elements of the draft Policy, including enhancements to CAO processes. Presentation available here.


An overview of the public consultation process and the timeline for finalizing the draft Policy and submitting to the Boards for consideration and approval.


Other actions that IFC and MIGA are developing to strengthen environmental and social accountability.


IFC's and MIGA's work program on enabling remedial solutions.
Update on IFC/MIGA Non-Policy Actions and Remedial Solutions